Best Jewelry Insurance Companies of 2023
Jewelry is more than just an accessory; it's an investment that holds sentimental value. It's a treasure that reminds us of special moments. But with these special items comes a responsibility to protect them properly. One of the best ways to do this is through jewelry insurance. It provides financial coverage in case your precious gems are stolen, lost, or damaged. However, just like any type of insurance, not all policies are created equal. In this blog post, we will be featuring the best jewelry insurance of April 2023.
Related Link: How to Measure your Ring Size without Leaving Home
1. Jewelers Mutual Insurance Group
When it comes to insuring your beloved jewelry, you want to ensure that you're working with the best in the business. Jewelers Mutual Insurance Group is one of the top jewelry insurance companies of 2023, offering a range of benefits for their policyholders. One of the biggest advantages of Jewelers Mutual is that you can choose the jeweler you want to work with, giving you the peace of mind that your precious pieces are being cared for by someone you trust. Another benefit is that there's no need to provide personal information or an appraisal to get a quote. With high coverage limits and premium discounts if you have a home security system, Jewelers Mutual is a top contender for insuring your jewelry collection. While their premiums may be slightly higher than some other companies, the peace of mind and quality of service they provide is well worth the cost.
Enjoy reading about jewelry and fashion? Visit LaCkore Couture for more helpful articles!
2. BriteCo
If you're in the market for jewelry insurance, BriteCo is a company you'll want to consider. Unlike other insurance providers, BriteCo offers excellent pricing for engagement rings with no deductibles. The fact that you can get insurance for up to 125% of your jewelry's initial appraisal value is even more impressive. If your engagement ring's value increases over time, this is a nice perk to have. Additionally, BriteCo's coverage is comprehensive, even offering limited coverage for preventive maintenance. While you'll need to provide personal information to receive a quote, BriteCo has received no complaints with the NAIC. Overall, BriteCo is a top contender for the best jewelry insurance company of 2023, especially for those looking for affordable pricing and comprehensive coverage.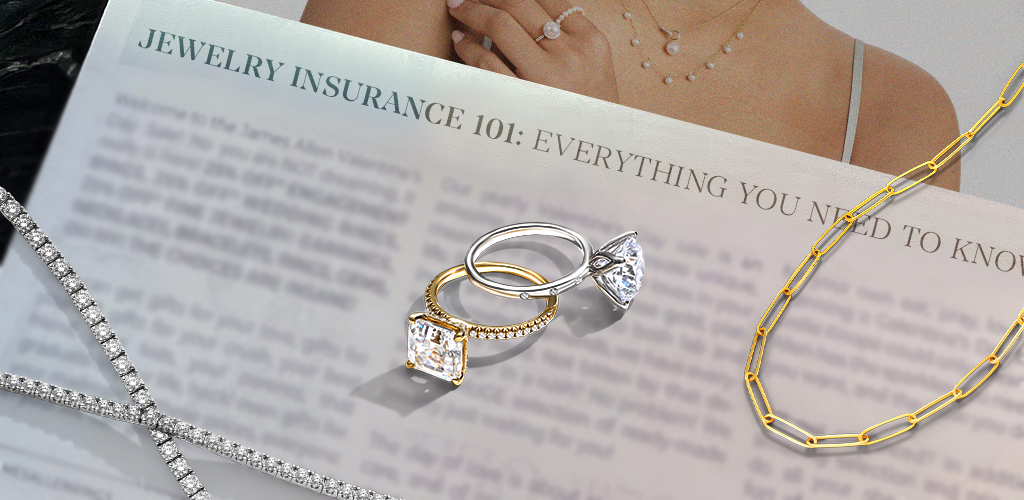 3. WAX
When it comes to protecting your most valuable jewelry, finding the right insurance company is crucial. In 2023, WAX stood out as one of the best jewelry insurance providers on the market. With the lowest premiums for both watches and engagement rings, WAX offers high coverage limits of over $1 million making it the ideal choice for insuring large collections. One of the best features of WAX is its easy-to-use app that allows you to add new items to your collection in just a few minutes. Plus, policies pay cash at an agreed-upon value, giving you peace of mind knowing that your jewelry is protected. So whether you're an avid jewelry collector or just have a few cherished pieces, WAX is definitely a company worth considering.
Looking for beautiful rings to add to your collection? Visit LaCkore Couture today!
Why You Should Get Jewelry Insurance
1. The possibility of loss or damage
Jewelry is small and can easily be lost or stolen. In fact, jewelry theft is not uncommon. Losing or damaging jewelry can leave you feeling heartbroken and stressed. While nothing can replace your sentimental attachment to your jewelry, insurance can at least protect you financially. Insurance covers a variety of damages, including lost and stolen jewelry, accidental damage, and more.
2. The cost of jewelry
Most people may not realize the cost of jewelry when they purchase it. Expensive gems and metals can add up quickly, and it's not uncommon for a piece of jewelry to be worth thousands of dollars. If your jewelry were to be lost, stolen, or damaged, replacing it would be a significant financial burden. However, with insurance, you can ensure that you don't face financial ruins in case of unforeseen incidents.
3. Peace of mind
When you have jewelry insurance, you can have peace of mind, knowing that you're protected financially. You can wear your jewelry without worrying about losing or damaging it by accident, and without worrying about the cost of replacement. You no longer have to be fearful of wearing your favorite piece of jewelry when you have insurance to back you up.
4. The convenience of insurance
Getting jewelry insurance is easy and convenient. You can get a quote from your insurance provider and sign up in minutes. It's also affordable - with most jewelry insurers charging less than 1% of the jewelry's value as an annual premium. Small price for the peace of mind that insurance brings.
5. Personalized insurance plans
Insurance providers offer personalized plans for your needs. You can choose the coverage amount, deductible, and various other options to build a plan that suits your requirements and budget. You can also choose replacement options that allow you to replace your jewelry with a similar piece or a cash payment based on the jewelry's current value.
Related Link: The Best Jewelry Gifts for Outdoorsy Women
Getting The Best Jewelry Insurance
Jewelry is one of the most precious investments one can make. It carries with it sentimental and financial value, so it's best to protect it properly. Jewelry insurance is an essential step in preserving the value of your precious gems. In this blog post, we shared some of the best jewelry insurance policies of April 2023. It's important to choose the right insurance company that provides the coverage you need at a reasonable cost. The companies mentioned above offer the best coverage options and are backed up by their reputation for excellent customer service. Get your precious gems insured today and enjoy peace of mind knowing that they are always protected.
Related Link:
Groovy Jewelry Gift Ideas For The Hippie In Your Life
---