Sizing Guide for Armlets and Anklets
Armlets and anklets are stunning pieces of jewelry that can elevate any outfit. Whether you're dressing up for a special occasion or going for a casual look, these timeless accessories add a touch of elegance. However, finding the right size can be a challenge due to individual differences in wrist and ankle circumference. To assist you in selecting the ideal armlet and anklet size, we have put together this comprehensive sizing guide.
Related Link: Open Heart Necklaces and Bracelets That Will Turn Heads
Tips for Measuring Anklet Length 
Taking your ankle's circumference is the first step in choosing the right length for your anklet. You can use a ruler and a tape measure, or you can wrap a piece of string around your ankle and use that. The ideal length of your anklet can be determined once you have your measurement. 
When measuring your ankles, add half an inch for a snug fit. This will prevent the anklet from slipping around too much on your ankle and ensure a snug fit. Add an inch to your true ankle measurement if you want a roomier fit. As a result, your anklet will have a little more freedom of movement.
Always choose the larger size if you're on the fence. An extender can be used to make a too-large anklet smaller, but not the other way around. The length of your anklet can be adjusted easily because most of them come with an extra piece. 
Keep in mind that the appropriate size of your anklet can also be affected by the degree of formality of the event you will be attending. If you plan on wearing an anklet to a wedding or black-tie event, for instance, you may want to make sure it fits snugly so it doesn't move around on your ankle or catch on your dress.
There are some broad principles that can be applied when deciding on an anklet's design. Thicker, chunkier anklets can help balance out larger ankles, while thinner, more delicate anklets look better on smaller ankles. A shorter anklet will work better with a smaller ankle, while a longer one will help lengthen a bigger one.
Measuring Wrist Circumference 
Measuring your wrist size is equally straightforward. Use a string or a flexible tape measure to measure the narrowest point of your forearm where it meets the hand. Wrap the tape measure around your wrist securely, allowing enough space to slide a finger underneath. Mark the intersection of the strings and use a ruler to determine their combined length.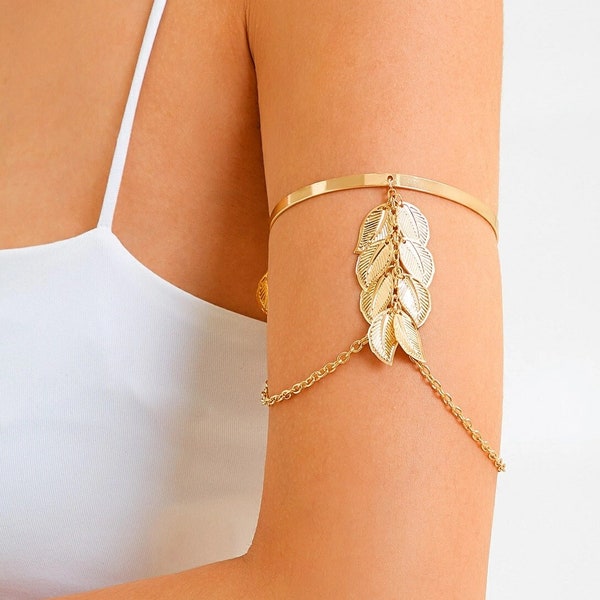 Tips for Measuring Armlet Length 
The guidelines for measuring armlets are similar to those for anklets. If you prefer a snug fit, add half an inch to your wrist size. If you want a looser fit, add an inch. Keep in mind that armlets often come with additional pieces to help achieve the perfect fit. When selecting a cuff bracelet without an extender, it's crucial to measure your wrist accurately for a snug fit.
Wanting to find hand-crafted, unique jewelry for your collection? Visit LaCkore Couture today!
Anklet Sizing for Women and Men 
Choosing the right size for an anklet can be a tricky task. While the average size may be 9 inches (22.5 cm), other factors need consideration when selecting the circumference. The desired tightness is one of the main considerations. If you prefer a snug fit, adding half an inch (1 cm) is recommended. However, many individuals add 0.75 inches (2 cm) to their chosen size. If you plan to wear multiple ankle bracelets, adding 1.25 inches (3 cm) is suggested. Selecting an anklet size is similar to choosing a bracelet size, requiring only a tape measure and a bit of patience.
Related Link: How to Style Your Charm Necklace Like a Pro
Pick the Right Material and Location
Metal, cloth, leather, and beads are just some of the materials available for use in making anklets and armbands. The overall shape and proportions are affected by the materials' flexibility, weight, and stretchability. Bracelets and anklets made of metal are less mobile than their textile and animal-hide counterparts. So, be careful about the material you pick, as it can affect the fit and comfort of the jewelry. When shopping for metallic armlets or anklets, for instance, you should think about the thickness of the jewelry to ensure a comfortable fit.
Although armlets and anklets are typically worn close to the wrist or ankle, the placement location can also affect the size required. If you like to wear your anklet lower on your ankle, for instance, you might need a larger size than if you prefer to wear it higher on your ankle. To ensure a snug and attractive fit, think about where you plan to wear the jewelry before deciding on a size. You should also think about whether you want your armlets to sit on your bicep or near your elbow.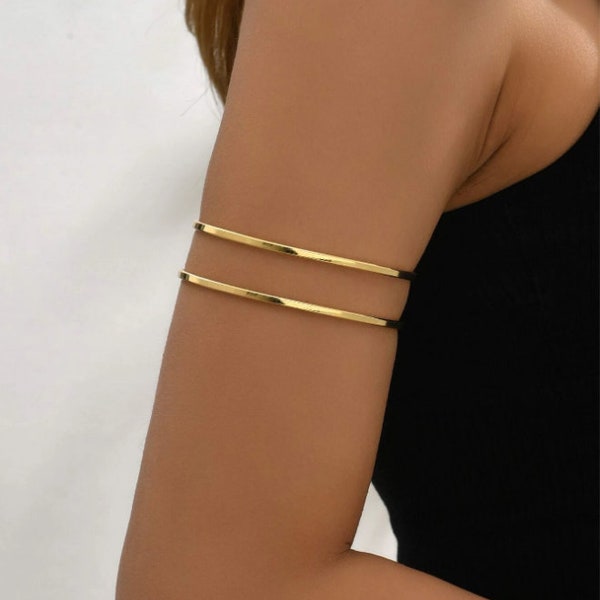 Seek Expert Advice 
If you're unsure about the armlet or anklet size, don't hesitate to ask a jewelry expert for their opinion. They possess a wealth of knowledge and experience and can guide you in choosing the best size for your needs. When shopping in-store, feel free to ask the sales associate for assistance. Additionally, most online stores have support teams available to answer your questions and provide guidance before making a purchase.
Wanting to learn about the latest jewelry and clothing trends? Visit our blog!
Choosing the Right Size  
If you follow the aforementioned guidelines, you should have no trouble selecting the ideal size for your armlet or anklet. You can find the ideal armlet or anklet size that complements your look and feels great by bearing these considerations in mind. Choosing the correct size armlet or anklet is essential for a snug and fashionable fit. Have fun shopping for that perfect armlet or anklet, and relish in showing it off.
Related Link:
Charm Necklaces That Are Perfect for Every Occasion
---