10 Matching Bracelets for Couples for 2023
When it comes to expressing love and connection, matching bracelets for couples have become a popular choice. These bracelets are more than just a token of affection between two people; they're also a chic accessory. There are many ways to show your love, whether you're celebrating an anniversary, getting engaged, or just want to. Ten of the most popular couples' bracelets of 2023 will be discussed here. There is something for every couple, from simple and classic styles to one-of-a-kind creations.
Related Link: Jewelry Gift Ideas for Your Gen-Z Child
1. LaCkore Couture GameDay Bracelets
Handmade bracelets perfect for sporting events are available from LaCkore Couture. You can show your team spirit in style with one of these bracelets, which come in a variety of colors. The bracelets are not only stylish, but they are also well-designed to ensure maximum wearing comfort. LaCkore Couture makes sure you're comfortable whether you're just watching the game or actually getting in some exercise. These bracelets are a great way to show your support for the team without breaking the bank.
2. Boutique Photo Projection Couple Bracelet by BIJOUN: A Unique Personalized Touch
For a truly personalized touch, this is a remarkable choice. These bracelets feature a projection stone that can hold a picture of you and your partner. The photo can be viewed up close or enlarged using a flashlight, creating a special keepsake of your relationship. With customizable color options for the wrist strap, you can create a bracelet that reflects your unique style and connection.
3. Say Yes Better Half Bracelet by Kate Spade: Celebrating Your Better Half
This is a charming and romantic choice for couples. This dainty gold bracelet features a cubic zirconia heart and the inscription "better half." It serves as a sweet reminder of your special someone and can be worn daily as a symbol of your love. Designed with elegance and sentimentality in mind, this bracelet is an excellent gift for anniversaries, engagements, or just to express your affection.
Do you want to be up to date with the latest fashion and jewelry trends? Check out our blog!
4. Gorjana Wilder Alphabet Bracelet: A Stylish Choice for Couples
The Gorjana Wilder Alphabet Bracelet is a chic and versatile option for couples. Made with high-quality materials, these bracelets feature a minimalist design with an alphabet charm representing your partner's initials. The bracelets can be worn individually or as a matching set, allowing you to customize your look. With its timeless appeal and sophisticated style, the Gorjana Wilder Alphabet Bracelet is a great choice for couples who appreciate elegance and simplicity.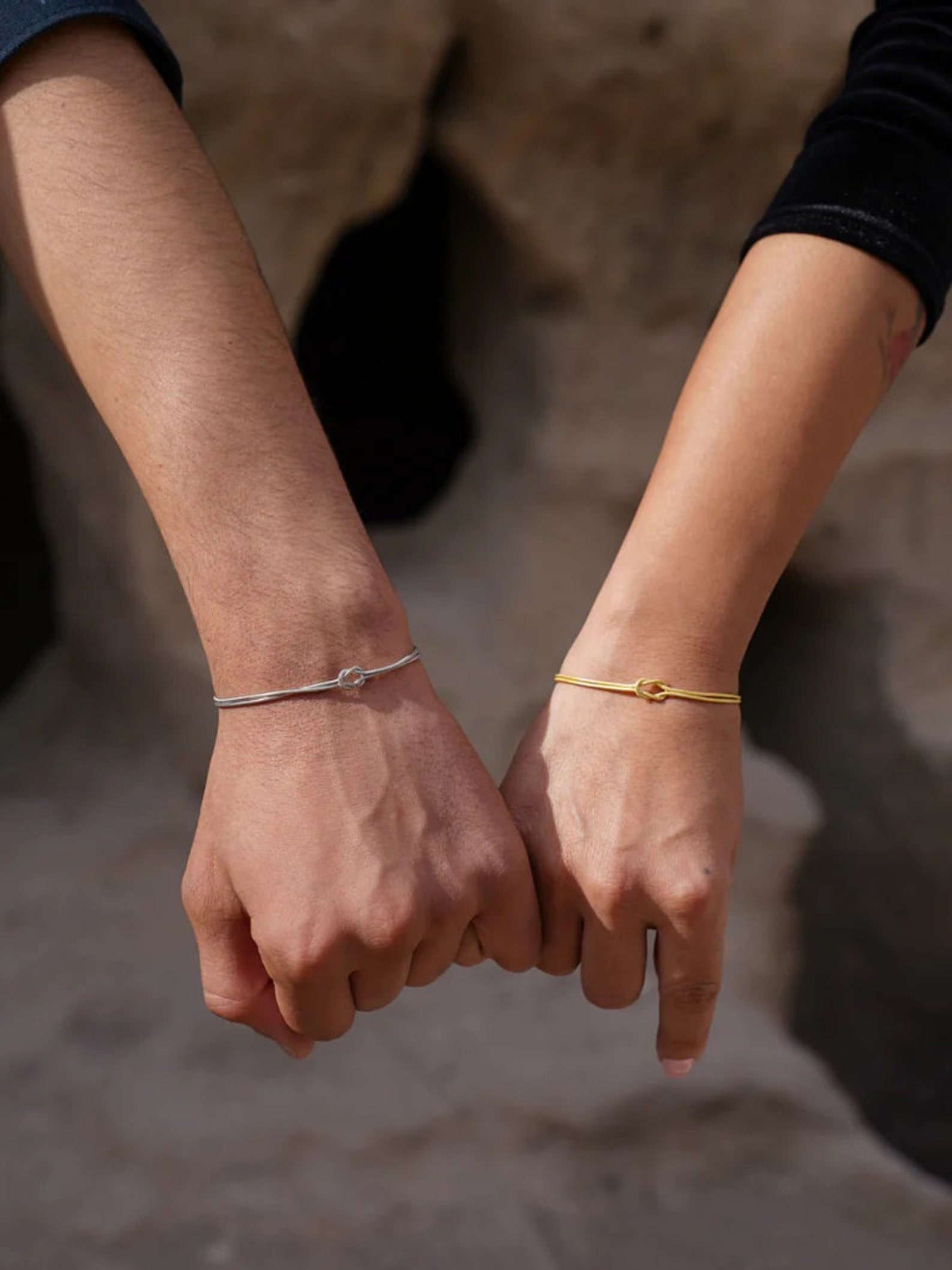 5. Matching Magnetic Charm Bracelets for Couples by Perimade: Completing Each Other
These are designed to symbolize the connection between couples. Each leather band features half of a magnetic heart charm, which comes together when the bracelets are snapped. This unique design represents the idea that your heart is not whole when your partner is not around. With its stylish and meaningful concept, these bracelets make a heartfelt gift for couples.
6. Long Distance Bracelet Set by Uncommon Goods: Bridging the Distance
For couples in long-distance relationships, these offer a unique way to stay connected. These light-up bracelets, known as "Bond Touch," allow you to send a touch to your partner with a simple tap on your wrist. The bracelet on the receiving end will glow and vibrate, letting your loved one know that you're thinking of them. With their rechargeable and waterproof features, these bracelets can be a constant reminder of your love regardless of the physical distance between you.
Related Link: How to Measure your Ring Size without Leaving Home
7. Made By Mary Laurel Cuff Bracelet: A Sophisticated Symbol of Intertwined Lives
These are a sophisticated choice for couples who want to showcase the intertwining of their lives. The two metal bands on this classy cuff are intricately interwoven to symbolize the strength of a couple's bond. You can choose to get one bracelet in silver and the other in gold, allowing each partner to have a unique piece that still complements the other. The Laurel Cuff Bracelet is a stylish accessory that can be worn on special occasions or as a daily reminder of your commitment to each other.
8. Engravable Bar Bracelets by Pura Vida : Customizable Tokens of Love
These are the perfect option for a unique and meaningful couple's bracelet. These bracelets feature a rose gold or silver plated bar that can be engraved with a personalized message. You can choose to have your names, an important date, or a simple "I love you" engraved on the bar. Buying these bracelets together allows you and your partner to pick out what each bracelet says, creating a unique and meaningful set. These are a beautiful way to express your love and create a lasting memory.
9. Roxanne Assoulin Mr & Mrs Set of Two Enamel and Gold-Tone Bracelets
The Roxanne Assoulin Mr & Mrs Set is a great option if you want to get married and wear matching bracelets as a symbol of your commitment to one another. Both the "Mrs" and "Mr" and a red heart are hand-painted on the glossy enamel beads and gold-tone that make up these bracelets. They serve as a beautiful gift for your bride or groom on your wedding day, and can also be worn every day afterward as a symbol of your marital bond. The playful yet elegant design of these bracelets adds a touch of charm to any outfit.
10. Wishbeads Intention Bracelet by Uncommon Goods: Manifesting Wishes Together
If you and your partner believe in the power of intention and manifestation, these are a perfect choice. These beaded couple's bracelets have a hidden compartment in the clasp where you can store a small note containing your wishes for each other and your relationship. Writing down your hopes and dreams together and wearing them on your wrists serves as a constant reminder and support for each other's goals. These allows you to carry your intentions with you wherever you go, fostering a positive and empowering connection.
Looking to expand your jewelry collection? Checkout our selection at LaCkore Couture today!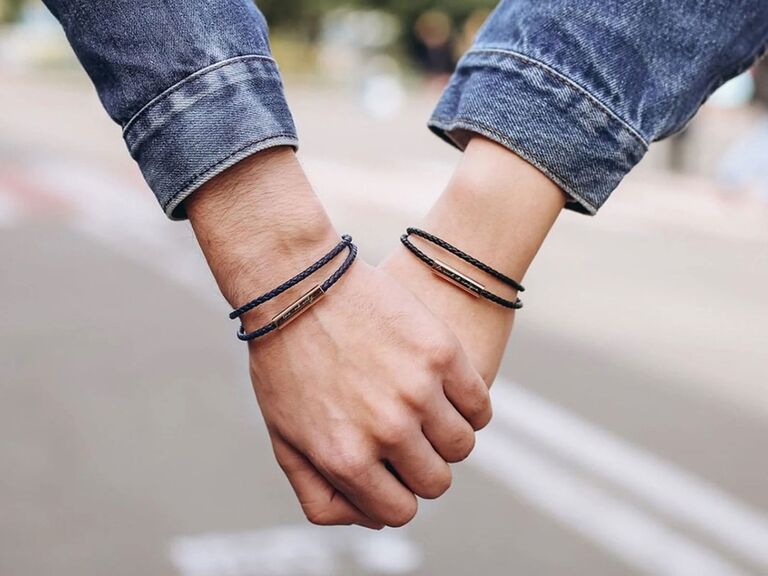 Finding The Best Matching Bracelets for Couples
Matching bracelets for couples provide a meaningful and fashionable way to express love, connection, and unity. Whether you're cheering for your favorite team, celebrating a special occasion, or simply wanting to showcase your bond, there is a wide variety of options available in 2023. From handmade game day bracelets and stylish alphabet charms to personalized photo projection bracelets and intention-filled wish beads, there is something for every couple's style and preference. These bracelets not only serve as a fashion statement but also as a symbol of the love and commitment shared between partners. So go ahead and choose a matching bracelet set that resonates with your unique relationship and wear it with pride, knowing that you carry a token of your love wherever you go.
Related Link:
10 Unique Methods of Styling Rings
---