How to Tie a Friendship Bracelet 3 Different Ways
You can show your friends how much they mean to you by giving them a friendship bracelet. Friends make them by exchanging colorful threads tied in various patterns and designs. The best part about these bracelets is that you can make them without any specialized knowledge or equipment. You have found the right place if you want to make friendship bracelets for your friends but don't know how to tie them. Here on the blog, you'll learn three unique techniques for tying a friendship bracelet.
Related Link: Groovy Jewelry Gift Ideas For The Hippie In Your Life
1. Knotting Technique
A knot is the most common method of securing a friendship bracelet. You only need some scissors, some tape, and some threads of various colors to make a beautiful knotting bracelet. Choose your thread colors and cut them to uniform lengths as a first step. Wrap some tape around the end after you've tied a knot in it. If you take the first thread and cross it over the thread next to it, you have the simplest knot possible. Simply by adding or removing knots from the rope, its length can be adjusted. The bracelet is complete after the last end has been knotted and any excess yarn has been cut off.
2. Chevron Technique
The Chevron technique is a more involved method of tying friendship bracelets, but the resulting pattern is stunning. A chevron friendship bracelet calls for 6-12 strands of yarn in contrasting colors, along with scissors and tape. Start by tying a knot in the ends of two strings. Next, cross the first string with the string to its left. A V-shaped pattern will result from repeating the process on the right side. It will take several attempts to get a bracelet that is the right length for your wrist. The last step is to get rid of the tape and a knot at the end.
Wanting to find hand-crafted, unique jewelry for your collection? Visit LaCkore Couture today!
3. Braiding Technique
Braiding technique is a simple yet elegant way of tying friendship bracelets. To make a braided bracelet, you will need three strings of different colors, scissors, and tape. Start by taping one end of the string to something after you've tied a knot in it. Then, braid the three strings together by crossing the left one over the center one and the right one over the center one. Iterate until you have achieved the desired length. The last step is to finish the bracelet by tying a knot and trimming any excess string.
Related Link: How to Measure the Length of a Necklace
Friendship Bracelets and Their Meanings
If you want to show your friend that your friendship will last forever, tie a friendship bracelet around their wrist. Their bright colors and detailed patterns make them a thoughtful present that will be treasured for years to come. Whether it's the fiery red that symbolizes love and passion or the cool blue that stands for peace and understanding, each bracelet has its own meaning and energy. By giving each other bracelets, friends pledge their undying support and solidarity no matter what may come. It's a lovely gesture that will always be a constant reminder of the bonds of friendship.
Ideas for Presenting Friendship Bracelets
Bundle:

Why give just one bracelet when you can give a whole bundle of friendship bracelets? Wrap a ribbon or string around your completed bracelets to keep them together. Then, jot down a few words expressing your gratitude and offering your best wishes for your friend's future in an informal note. This is a great present for a group of friends who are particularly close to one another.

A Bond of Friendship Gift for Graduate:

Completing formal education represents a significant achievement and the close of an era. Giving your friend a friendship bracelet in their school's colors is a thoughtful farewell present they'll wear with pride. Include a brief note expressing your delight in and admiration for their accomplishment.

Virtual:

You can surprise your friends with a friendship bracelet even if you're thousands of miles apart by sending them one virtually.

Share your completed friendship bracelet with a pal by snapping a screenshot and forwarding it over messaging apps or email. Sending a video of you making the bracelet would be a thoughtful addition to the present. It's a great gesture to send to a far-flung pal to let them know you're thinking of them and missing them.
Friendship Bracelet Cleaning
Friendship bracelets, a popular accessory for all ages, often become dirty after frequent wear. When cleaning your beloved friendship bracelet, it's important to take proper steps to not damage the material or design of the bracelet. One method is to use mild soap and lukewarm water to soak the bracelet, then gently rub with a soft cloth or toothbrush. Be sure to rinse thoroughly and let the bracelet air dry. Another tip is to use a jewelry cleaner specifically designed for delicate materials, such as beaded or woven bracelets. With a little patience and care, your cherished friendship bracelet can be beautifully clean and ready to wear again.
Wanting to learn about the latest jewelry and clothing trends? Visit our blog!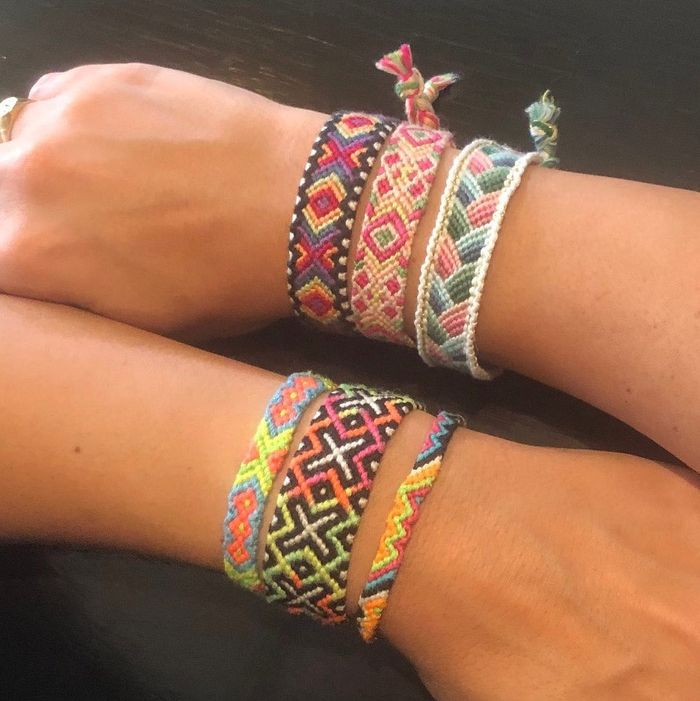 Tying Your Friendship Bracelets
Making friendship bracelets with your pals is a great way to spend some quality time together. Here are shown three different ways to tie a friendship bracelet. These processes can be easily adopted by anyone. Prepare some friendship bracelets by gathering some colorful thread, tape, and scissors. Your pals are going to adore these bracelets you made for them.
Related Link: How to Fix a Broken Necklace
---